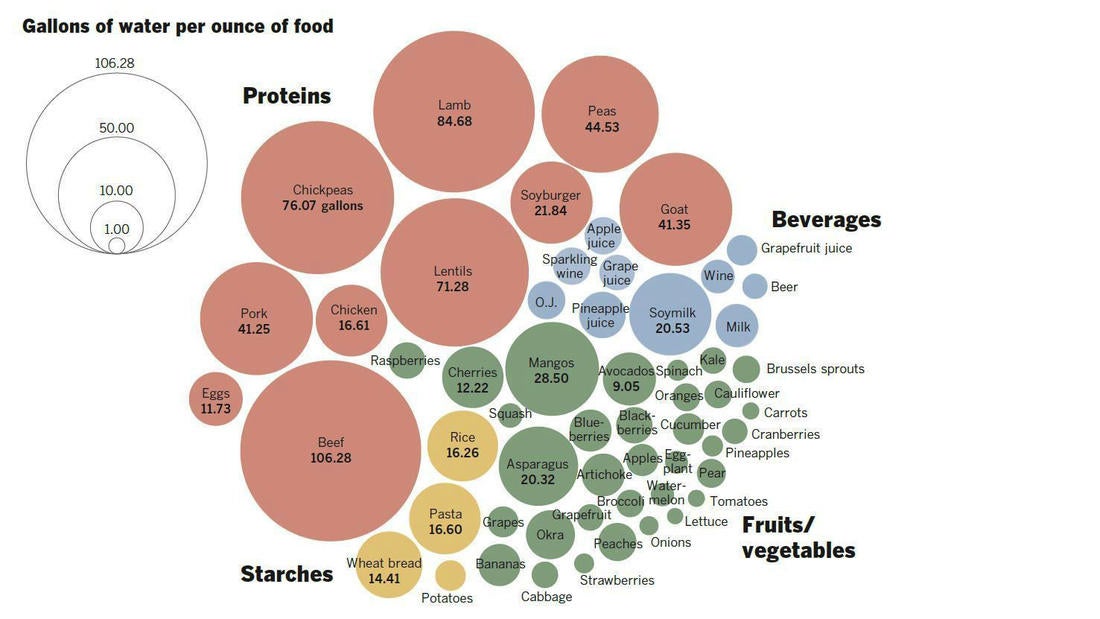 Hier, nous avons examiné la performance des plantes publiées sur un autre blog. Un élément que j'ai immédiatement remarqué était le peu d'eau utilisée par les plantes. Même les plantes cultivées à l'extérieur, à l'aide de la méthode de Kratky, présentaient une faible consommation d'eau. Comme j'avais déjà plusieurs nombres dans ma matrice, j'ai créé une autre colonne pour montrer le nombre d'onces consommées chaque jour par chaque plante.
Yesterday, we looked at the performance of the plants posted on another blog. One item that I immediately noticed was how little water the plants used. Even the plants that were grown outside, using the Kratky method, showed low water consumption. Since I already had many of the numbers in my matrix, I created another column to show the number of ounces consumed each day, by each plant.
Si vous suivez mon blog, vous savez que le plus grand consommateur d'eau dans mon «sélecteur de patio» a soulevé des lits sur roulettes, sont des tomates et des concombres. Cette méthode ne fait pas exception, mais les tomates utilisant un tiers d'un gallon d'eau par jour sont remarquables en termes de conservation de l'eau. Je estimerais que mes réservoirs de tomate ont besoin d'un remplissage complet de leur capacité de 2,5 gallons, tous les jours.
If you follow my blog, you know that the largest consumer of water in my "patio picker" raised beds on wheels, are tomatoes and cucumbers. This method is no exception, but the tomatoes using only a third of a gallon of water each day is outstanding, in terms of water conservation. I would estimate that my tomato bed reservoirs need a complete fill of their 2.5 gallon capacity, every day.
Cela montre la quantité d'eau perdue pour la transpiration dans le sol, en plus des feuilles, même pour les méthodes d'arrosage où l'eau est méchante vers le haut à partir d'un réservoir inférieur. Un jardin typique nécessite au moins un pouce d'eau par semaine, ce qui devrait laisser le sol trempé d'environ 5 à 6 pouces de profondeur. Pour une estimation approximative de la quantité d'eau requise par votre jardin, utilisez 5 gallons d'eau par 8 pieds carrés.
This shows how much water is lost to transpiration through the soil, in addition to the leaves, even for watering methods where water is wicked upward from a lower reservoir. A typical garden requires at least an inch of water a week, which should leave the soil soaked about 5-6 inches deep. For a rough estimate of how much water your garden requires, use 5 gallons of water per 8 square feet.
Si j'étais un «prepper», je voudrais certainement prendre connaissance des caractéristiques de conservation de l'eau de la méthode de Kratky et apprendre les bases. En plus de la capacité de cultiver avec des conteneurs à l'extérieur ou à l'intérieur, les coûts d'installation et de maintenance sont extrêmement raisonnables. Comme je l'ai déjà mentionné, je m'attends à dépenser environ 35 $ pour 2000 grammes des trois produits chimiques, ce qui est suffisant pour 1000 gallons de solution nutritive. À l'aide de la matrice ci-dessous, vous pouvez estimer le nombre de plantes de chaque légume que vous pourriez développer, et en utilisant la matrice d'hier, vous pourriez faire une estimation de récolte.
If I was a prepper, I would definitely take notice of the water conservation features of the Kratky method, and learn the basics. In addition to the ability to grow with containers outside or inside, the setup and maintenance costs are extremely reasonable. As I mentioned before, I expect to spend around $35 for 2000 grams of all three chemicals, which is enough for 1000 gallons of nutrient solution. Using the matrix below, you can make an estimate of how many plants of each vegetable you could grow, and using yesterday's matrix you could make a harvest estimate.
Si je vivais dans une zone éloignée sans source d'eau fiable ou limitée, en prenant de l'eau de pluie dans des récipients, je pouvais facilement ajouter les engrais à ces récipients et commencer un jardin rapidement. Une pluie, si je suis préparé correctement, pourrait remplir tous mes conteneurs au printemps. En fait, l'eau de pluie a le pH neutre que je veux pour mes plantes. En résumé, la méthode Kratky est une alternative qui modifie la logistique du jardinage.
If I lived in a remote area without a reliable or limited source of water, by catching rain water in containers, I could easily add the fertilizers to these catch containers and start a garden quickly. One rainfall, if I am prepared correctly, could fill all my containers in Spring. In fact, rainwater has the neutral pH that I want for my plants. In summary, the Kratky method is an alternative that changes the logistics of gardening.
| | | | | |
| --- | --- | --- | --- | --- |
| Plant | Day Water First Added | Days Plant Life | Total Gals Used | ounces/day |
| Lettuce | NA | 51 | 0.44 | 1.10 |
| Lettuce | NA | 47 | 0.44 | 1.20 |
| Lettuce | NA | 41 | 0.6 | 1.87 |
| Bok Choy | NA | 62 | 1.25 | 2.58 |
| Cabbage | NA | 153 | 4.5 | 3.76 |
| Endive | 59 | 66 | 2 | 3.88 |
| Cilantro | NA | 113 | 3.5 | 3.96 |
| Lettuce | NA | 59 | 2.1 | 4.56 |
| Endive | 68 | 112 | 4 | 4.57 |
| Arugula | 155 | 192 | 7 | 4.67 |
| Lettuce | NA | 76 | 2.8 | 4.72 |
| Kale | 94 | 159 | 6 | 4.83 |
| Cilantro | 106 | 159 | 7 | 5.64 |
| Basil | 125 | 204 | 9.5 | 5.96 |
| Swiss Chard | 69 | 296 | 14.5 | 6.27 |
| Kale | NA | 88 | 4.5 | 6.55 |
| Pepper | 81 | 99 | 5.25 | 6.79 |
| Swiss Chard | 69 | 117 | 6.5 | 7.11 |
| Pepper | 113 | 180 | 10 | 7.11 |
| Kale | 58 | 138 | 8.25 | 7.65 |
| Lettuce | NA | 70 | 4.5 | 8.23 |
| Basil | 92 | 100 | 7 | 8.96 |
| Pepper | 113 | 171 | 12 | 8.98 |
| Cucumber | 26 | 112 | 12 | 13.71 |
| Pepper | NA | 108 | 12.5 | 14.81 |
| Pepper | NA | 108 | 13 | 15.41 |
| Eggplant | NA | 96 | 24 | 32.00 |
| Cucumber | 45 | 130 | 45 | 44.31 |
| Tomato | 80 | 237 | 86 | 46.45 |
| Tomato | 98 | 148 | 54.5 | 47.14 |
| Tomato | 98 | 148 | 56 | 48.43 |